Resolving Inflammation
Presenter: Ryan Lazarus, DC, MS, CNS, IFMCP
Date: Thursday, August 8, 2019
Time: 11:00 AM PT (2:00 PM ET)
Summary:
Ryan Lazarus, DC contrasts conventional vs. Functional Medicine approaches in the treatment of chronic inflammation, one of the most common chemical imbalances patients are facing today. Chronic inflammation exerts deleterious systemic effects in the body and is linked to most chronic diseases, such as neurodegenerative diseases, pain and energy disorders, gut dysfunction, autoimmunity and allergies, cancer, and aging. Dr. Lazarus describes major biochemical and nutritional players involved in the two distinct phases of inflammation—initiation and resolution. He shares clinical scenarios that can impair patients' ability to resolve inflammation and describes strategic modalities to help resolve inflammation, namely a superfamily of lipid mediators known as specialized pro-resolving mediators (SPMs).
Presenter Bio: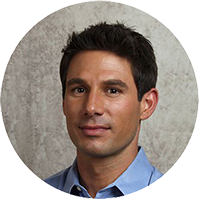 Ryan Lazarus, DC, MS, CNS, IFMCP
Clinical Director/Owner, Lazarus Wellness
Ryan Lazarus, DC, MS, CNS, IFMCP is the clinical director for Lazarus Wellness, located in Napa Valley and Diablo Valley. He is a Certified Functional Medicine Practitioner and is a board-certified Nutrition Specialist. He also has a master's degree in Human Nutrition and Functional Medicine as well as a bachelor's degree in Kinesiology. He served as faculty at University of Western States, specializing in Functional Medicine for metabolic syndrome and is an expert in diabetes, autoimmune, and digestive disorders.
.